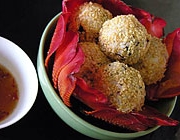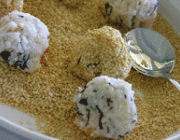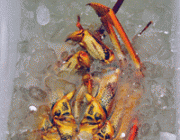 Recipe courtesy: Galaxy Guides
Southern Rock Lobster Sushi
---
Makes approximately 40 pieces
---
Ingredients
500g sushi rice washed several times in cold water, placed in cold water for 5 minutes and then drained well

640g cold water

50g sugar

2 drops sesame oil

40g vegetable oil

40g shallots - finely chopped

16g finely chopped ginger and garlic

2 sashimi grade Southern Rock Lobster tails very thinly sliced

8g salt

2 sheets nori - roasted and finely shaved

Roasted sesame seeds

250ml lime and chilli dipping sauce

---
Method
Put the sushi rice in the water, cover tightly with two layers of plastic and put on low heat. When it starts to cook turn the heat to the lowest point.
Mix together the mirin and sugar and set aside.
Saute the shallots and ginger/garlic in the vegetable and sesame oil.
When the rice is cooked, stir in the sugar/mirin, then stir through the Rock Lobster, shallot and nori (the heat of the saucepan will just cook the Rock Lobster). Cover with plastic and allow to cool completely - (avoid refrigeration if possible)
Portion into 40g lots, shape into balls and roll through roasted sesame seeds.
Serve with a lime and chilli dipping sauce.

---
Recipes, text and images © Ann Oliver galaxyguides.com