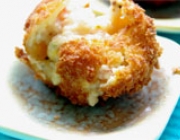 Recipe courtesy: Galaxy Guides
Southern Rock Lobster Croquetta
---
Makes 27 Portions
---
Ingredients
For the béchamel base

200g whole milk

Pinch of saffron

200g Southern Rock Lobster stock

50g unsalted butter

1g fennel seed, roasted and roughly ground

50g strong flour

1g sea salt
.
5g fresh coarsely ground black pepper
Other ingredients
250g green Rock Lobster meat, roughly chopped

2 eggs, lightly seasoned and whisked together

Flour

Japanese breadcrumbs

---
Method
Heat the milk and infuse the saffron. Remove from the heat and add the Rock Lobster stock. Proceed as with normal béchamel. Brown the butter and fennel, add the flour and seasonings, and then whisk in the milk and stock. Cover with cling wrap and pierce a couple of pinprick holes in the top to allow the steam to escape. Allow to cool, then stir through the Rock Lobster meat.

Divide the mixture into 40mm silicone canapé moulds and freeze. When completely frozen unmould into airtight containers and return to the freezer.

As you need to use them
Flour egg and crumb, then egg and crumb. Allow to sit for 15 minutes and then fry in hot clean oil.

Tip - the centers are pretty much liquid and Rock Lobster so they need to be wisely handled/served.


---
Recipes, text and images © Ann Oliver galaxyguides.com