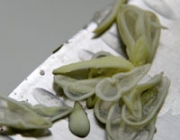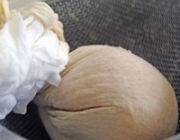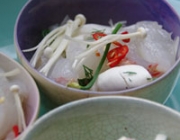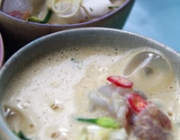 Recipe courtesy: Galaxy Guides
Creamy Coconut Southern Rock Lobster Soup with Mushrooms and Green Almonds
---
Makes 3
---
Ingredients
for the soup base

1L dirty Southern Rock Lobster stock, seasoned to taste with sea salt and white pepper
200g fresh coconut meat, cleaned weight, finely chopped in a Thermomix or Mycook — see tip
for the soup

50g diced Chinese turnip, peeled weight
20g fresh shitake mushrooms, finely sliced
3 medium oyster mushrooms, shredded
30g enoki mushrooms, rough chopped
dill sprigs
3 x 30g slices of green Southern Rock Lobster tail meat
3 garlic flowers
6 green almonds, finely sliced
other
3 egg yolks
---
Method
Soup base

Bring the stock to the boil, mix in the coconut with a stab mixer. Allow to cool sufficiently to be handled and then drain the stock into a sieve that is covered with a double layer of muslin. Squeeze out the coconut meat and refrigerate the infused stock until ready to use.

For the soup
Before finishing the soup, divide everything between the three warmed bowls to allow it to come to room temperature. Whisk the coconut infused stock together and take out a small amount and mix the egg yolks into it. Heat the stock mass, and as soon as it comes to the boil, whisk in the egg yolks then immediately remove from the heat. Whisk the soup to get a good froth.

Pour over the other ingredients at the table.

tip — you can buy frozen, cleaned and grated young coconut meat at some Asian grocers, but it is not as good as fresh.

---
Recipes, text and images © Ann Oliver galaxyguides.com